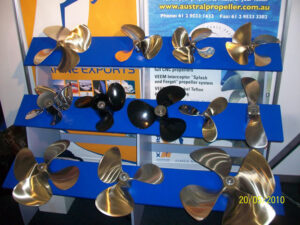 The Austral Company was founded by the Vincent family in 1940 and we are proud to say the third generation of family members are now operating the business. Austral are one of the few companies in the world dedicated solely to the manufacture of marine propellers. We produce propellers of all types up to 72″ (1.83m) diameter for use on both pleasure and commercial craft.
Austral are marine propeller specialists and as such our plant and equipment is purpose built with this aim alone. Our facility is totally self contained and includes a CAD/CAM design centre, pattern shop, modern non ferrous foundry, machine shop with CNC capability, finishing section and quality control department. State of the art technology is used extensively throughout the plant in propeller design, tooling manufacture, production scheduling, electronic propeller balancing, quality inspection and calibration. View information about the manufacturing process
Austral prides itself on its ability to satisfy a total propeller design concept within a short manufacturing lead-time. We manufacture propellers of superior styles, to a high quality standard and at a "value for money" price. Most importantly, we can select a propeller size which custom matches the boat, engine and gearbox combination.
Austral Distributes International Propellers
Austral imports quality overseas propeller brands including; MAX-PROP feathering sailboat propellers, ACME ski boat and cruiser propellers and Eliche Radice folding and aluminum propellers.
We also distributes VEEM CNC machined propellers to the Pacific including New-Zealand and Australia. VEEM's new interceptor technology allows easy pitch changes to their large range of fully CNC machined propellers. Veem Gyros are the latest in marine roll stablisation devices by VEEM winning multiple design awards.
Austral Exported Worldwide

In these days of fast communication and rapid transport, buyers can easily obtain products from wherever they choose. To be competitive it is essential to have products which rank with the world's best. Proof of Austral Propeller's world wide reputation for quality and reliability is that they are now consistently exported to over 40 overseas countries within North America, Europe, East Asia and the Pacific region.
Austral has had a long association with the marine industry both in Australia and overseas. We are long standing members of the Australian International Marine Export Group (AIMEX), the Boating Industry of Australia. (BIA) and the National Marine Propeller Association (NMPA)