Cushion hub bushings, Flo-Torq II hubs & XHS hubs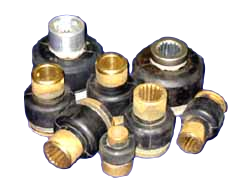 To protect propeller, engine and lower gear unit gears, most manufacturers of outboard and sterndrive engines provide their propellers with built-in shock absorbing cushion hubs. The reason for this required protection is that most modern gearshift motors transmit shock when shifting gears and also to absorb shock if the propeller hits an object. In other words, the cushion hub reduces the inertia effect on the propeller. Remember, a cushion hub is a safety device designed to break down and slip under excessive torque loading. The cost of the cushion hub replacement is relatively inexpensive when compared with expensive engine damage, which could result if the device did not slip or if the propeller is converted to a solid drive.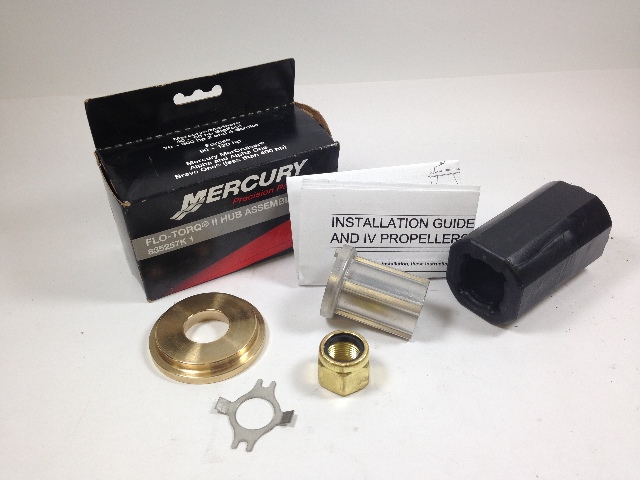 Many Mercury Marine Propeller Co. propellers now utilise the new corrosion resistant Flo-Torq II Hub assembly which allows cross compatibility between most brands of recreational outboard and sterndrive engines. The "slide-in" nature of the Flo-Torq II Hub assembly allows customers to easily and quickly replace damaged hubs themselves.
Michigan Wheel's Xchangeable Hub System (XHS) absorbs impact and stress caused by shifting gears and is design to spin under significant impact to help protect your lower unit. XHS and XHS II is also designed to be interchangeable with Mercury Marine's Flo-Torq II hub system.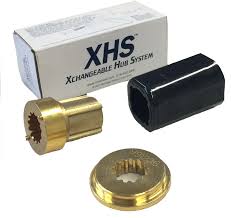 | Bushing Type  | Engine make & HP  | Type  | Part No.  |
| --- | --- | --- | --- |
| Flo-Torq II Hub | | Replacement Drive Sleeve | 835290A1 |
| Flo-Torq II Hubs / XHS II | Mercury/Mariner/Force 70 - 250 HP | 15 Spline | 835257K1 / 102 or 202 |
| Flo-Torq II Hubs / XHS II | Johnson/Evinrude V6 & V8 1991 on | 15 Spline | 835265Q02 / 100 or 200 |
| Flo-Torq II Hubs / XHS II | Johnson/Evinrude V4 | 13 Spline | 835266Q1 / 106 or 206 |
| Flo-Torq II Hubs / XHS II | Johnson/Evinrude V6 & V8 pre 1990 | 15 Spline | 835267Q1 / 101 or 201 |
| Flo-Torq II Hubs / XHS II | Volvo SX Sterndrive, OMC, Cobra Sterndrive | 19 Spline | 835270Q1 / 105 or 205 |
| Flo-Torq II Hubs / XHS II | Yamaha V4, V6 & Sterndrive | 15 Spline | 835271Q2 / 103 or 203 |
| Flo-Torq II Hubs / XHS II | Yamaha 50 - 100 HP | 15 Spline | 835272Q1 / 108 or 208 |
| Flo-Torq II Hubs / XHS II | Honda 75 - 90 HP pre 1998 | 15 Spline | 835277Q1 / 102 or 202 |
| Flo-Torq II Hubs / XHS II | Honda 135 - 250 HP | 15 Spline | 835278Q1 / 107 or 207 |
| Flo-Torq II Hubs / XHS II | Honda 115 - 130 HP / 75 - 90 HP 1990 on | 15 Spline | 835279Q2 / 107 or 207 |
| Flo-Torq II Hubs / XHS II | Suzuki 150 - 300 HP | 15 Spline | 835281Q1 / 104 or 204 |
| Flo-Torq II Hubs / XHS II | Suzuki 75 - 140 HP / 60 & 70 HP 4-stroke | 13 Spline | 835282Q1 / 110 or 210 |
| Flo-Torq II Hubs / XHS II | Johnson/Evinrude 90 & 115HP 4-stroke | 15 Spline | 835283Q1 / 125 or 225 |
| Flo-Torq II Hubs / XHS II | Johnson/Evinrude 90 - 140HP Large Gear case | 15 Spline | 835283Q2 / 126 or 226 |
| Flo-Torq II Hubs / XHS II | Suzuki 70 - 90 HP | 15 Spline | 835283Q03 / 127 or 227 |
| Flo-Torq II Hubs / XHS II | Tohatsu/Nissan 60 - 140 HP | 15 Spline | 835284Q1 / 109 or 209 |
| | | | |
| Rubber Hub | Johnson / Evinrude 150 - 235 HP | 15 Spline | 200JS |
| Rubber Hub | Johnson / Evinrude 100 HP | Drive Pin | 100J |
| Rubber Hub | Johnson / Evinrude 60 - 90 HP | Drive Pin | 75J |
| Rubber Hub | Johnson / Evinrude 28 - 40 HP | Drive Pin | 40J |
| Rubber Hub | Johnson / Evinrude 25 HP | 13 Spline | 25J |
| Rubber Hub | Johnson / Evinrude / Volvo 18 - 25 HP | Drive Pin | 20J |
| Rubber Hub | Johnson / Evinrude 9.9 - 15 HP | 13 Spline | 15J |
| Rubber Hub | Johnson / Evinrude 6 - 10 HP | Drive Pin | 10J |
| Rubber Hub | OMC Outdrive 100 - 245 HP | Drive Pin | 100J |
| Rubber Hub | Mercury / Mariner 80 - 225 HP | 15 Spline | 175M |
| Rubber Hub | Mercury / Mariner / Yamaha 85 - 150 HP | 15 Spline | 150M |
| Rubber Hub | Mercury / Mariner / Yamaha 40 - 70 HP | 13 Spline | 70M |
| Rubber Hub | Mercury / Mariner / Yamaha 40 - 65 HP | 13 Spline | 65M |
| Rubber Hub | Mercury / Mariner 35 - 50 HP | 11 Spline | 50M |
| Rubber Hub | Mercury 20 HP | 8 Spline | 20M |
| Rubber Hub | Mercury 9.8 HP | 8 Spline | 10M |
| Rubber Hub | Mercruiser (Heavy Duty Hub) 120 - 280 HP | 15 Spline | 225M |
| Rubber Hub | Mercruiser - most models 120 - 280 HP | 15 Spline | 150M |
| Rubber Hub | Chrysler 85 - 140 HP | 15 Spline | 150M |
| Rubber Hub | Chrysler 75 - 135 HP | 18 Spline | 135C |
| Rubber Hub | Chrysler 75 - 135 HP | 18 Spline | TTT |
| Rubber Hub | Chrysler 65 HP | 13 Spline | 65M |
| Rubber Hub | Chrysler 35 - 60 HP | 14 Spline | 55C |
| Rubber Hub | Volvo 80 / Enfield / Perkins 40 - 100 HP | 12 Spline | 80V |
| Rubber Hub | Volvo 10 - 110 / Eaton B 100 - 150 HP | Drive Pin | 100V |
| Rubber Hub | Volvo 200 - 280 / Enfield / BMW 110 - 240 HP | 17 Spline | 200V |
| Rubber Hub | Volvo 280 - 290 Long Hub (Michigan) 110 - 290 HP | 17 Spline | 300MV |
| Rubber Hub | Volvo 280 - 290 Long Hub (Volvo original) 110 - 290 HP | 17 Spline | 290V (glue-in hub) |
| Rubber Hub | Yamaha 25 - 30 HP | 10 Spline | 30Y |
| Rubber Hub | Suzuki 150 - 225 HP V6 | 15 Spline | 200S |
| Rubber Hub | Suzuki 20 - 30 HP | 10 Spline | 30S |
| Rubber Hub | Austral Saildrive Propellers 13" - 18" Diameter | 17 Spline | SAILDRIVE |