2B and 3B aluminum propellers to suit popular saildrives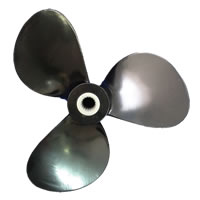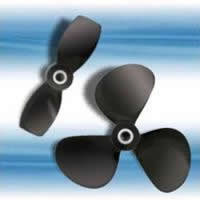 In response to the enormous popularity of saildrive units a range of aluminum three blade propellers have been designed to specifically suit these units. Basically these propellers are designed for use on cruising yachts where auxiliary power and smoothness are of more importance than maximum sailing speed.
These propellers have larger blades than our 2 and 3 blade fixed or folding yacht propellers therefore this design provides greater efficiency and manoeuvrability. The propellers are cast in a corrosion resistant aluminium which significantly reduces the potential problem of corrosion and electrolysis which can occur when a bronze propeller is fitted to an aluminium saildrive unit.
Design Features and Advantages:
Large blades ideal for auxiliary power
Smoother for cruising yacht
Individually pitchometer checked
Cast in premium magnesium aluminium
All fitted with rubber cushion hubs
Models to suit all popular saildrives
Statically balanced
2 & 3 BLADE SAILDRIVE DESIGN DATA
2 BLADE SAILDRIVE
Diameter
12" to 18"
3 BLADE SAILDRIVE
Diameter in inches
Diameter in mm
Pitch Range in inches
Pitch Range in mm
13"
330
9 to 12
229 to 305
14"
356
9 to 13
229 to 330
15"
381
9 to 14
229 to 356
16"
406
13 to 15
330 to 381
17"
432
11 to 14
279 to 356