2B, 3B, 4B and 5B narrow bladed low drag sailboat propellers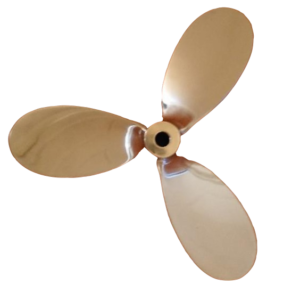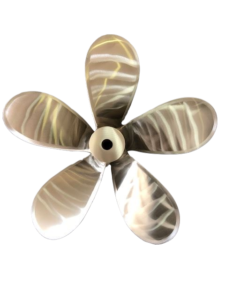 Conventional cruiser type propellers can cause tremendous drag on sailing boats. For this reason we manufacture a range of narrow bladed two, three, four and five blade yacht propellers. These units are available in left and right hand rotation with maximum blade width one quarter of the propeller diameter. This compromise design technique can give quite reasonable performance with auxiliary engines under power and also provide very low drag under sail.
Due to the reduced blade area of these propellers, a two blade should be selected which is about 8% larger in diameter than a normal area three blade or about 4% larger for the three blade yacht model.
Design Features and Advantages:
Narrow blades reduce drag when sailing
Lower maintenance than folding propellers
Relatively inexpensive initial cost
Individually pitchometer checked
Statically balanced
Cast in Nibral
2 BLADE, 3 BLADE, 4 BLADE AND 5 BLADE FIXED SAILBOAT DESIGN DATA
Pitch Range
Approximate Standard Hub Sizes
Maximum bore sizes

Diameter
Right & Left Hand
Large Diameter
Length
Standard Hub
inch
mm
inch
mm
inch
mm
inch
mm
inch
mm
10"
254
6 to 10
152 to 254
1.50"
38
2.12"
54
1.00"
25.4
11"
279
6 to 12
152 to 305
1.50"
38
2.25"
57
1.00"
25.4
12"
305
6 to 13
152 to 330
1.50"
38
2.25"
57
1.00"
25.4
13"
330
8 to 14
203 to 356
1.62"
41
2.50"
64
1.125"
28.6
14"
356
8 to 14
203 to 356
1.62"
41
2.50"
64
1.125"
28.6
15"
381
9 to 14
229 to 356
2.00"
51
3.12"
79
1.25"
31.8
16"
406
9 to 14
229 to 356
2.00"
51
3.12"
79
1.25"
31.8
17"
432
10 to 15
254 to 381
2.12"
54
3.12"
79
1.375"
34.9
18"
457
10 to 15
254 to 381
2.12"
54
3.12"
79
1.375"
34.9
19"
483
12 to 16
305 to 406
2.50"
64
4.00"
102
1.50"
38.1
20"
508
12 to 16
305 to 406
2.50"
64
4.00"
102
1.50"
38.1
22"
559
14 to 20
356 to 508
3.00"
76
4.50"
114
1.75"
44.4
24"
610
15 to 22
381 to 559
3.00"
76
4.50"
114
1.75"
44.4
26"
660
16 to 24
406 to 610
3.37"
86
5.25"
133
2.00"
50.8
28"
711
18 to 26
457 to 660
3.75"
95
6.00"
152
2.25"
57.1