Seahawk – Slipstream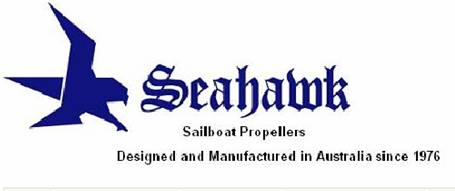 Slipstream® – 2B & 3B Geared Folding Sailboat Propellers
Saildrive and Inboard Styles
Seahawk Australia and Austral Propellers have joined forces to bring you the "SLIPSTREAM" range of geared folding sailboat propellers.
For racing and social yachts, streamlining and smoothness of design is of major importance. Unwanted drag under sail can result from the use of two or three bladed fixed propeller installations. Slipstream Folding Sailboat propellers achieves the best of both worlds, providing both smooth flow when sailing and efficient forward and reverse propulsion under power.
Centrifugal force provides easy synchronized opening of the propeller blades when under engine power. Alternatively, under sail, the water flow closes the blades, significantly reducing drag. The gearing avoids the vibration and operational problems commonly associated with one blade moving independently of the other.
Design Features and Advantages:
Synchronized geared opening and closing
Folded position minimizes drag when sailing
Less drag than 2 or 3 blade fixed propellers
Saildrive models feature 'fail-safe' cushion hubs
All stainless steel construction
Full installation kit with each propeller
Propeller operates forward or reverse
Propeller design is efficient under power
Both saildrive and inboard styles available
Large blade area for excellent thrust
All wear components are user-serviceable
Five-year warranty against material & manufacturing defects
Hub length for shaft size and taper
12:1 English
10:1 Metric ISO
Shaft
"A"
"B"
Shaft
"A"
"B"
Shaft
"A"
"B"
1"
135
70
1"
125
60
25mm
125
60
1-1/8"
140
75
1-1/8"
125
60
30mm
145
60
1-1/4"
145
80
1-1/4"
145
80
35mm
153
88
1-3/8"
153
88
1-3/8"
145
80
40mm
153
88
1-1/2"
153
88
1-1/2"
150
88
All Dimensions are in Millimetres
| Blade Size | "C" |
| --- | --- |
| 14" | 165 |
| 15" | 178 |
| 16" | 190 |
| 17" | 203 |
| 18" | 215 |
| 19" | 228 |
| 20" | 240 |