VEEM Gyro
VEEM Gyro's are powerful roll stabilisation devices that function equally well when the vessel is at zero speed, low speed or underway. This range of products have been engineered for reliable high performance service in very large boats and small ships.


Superyacht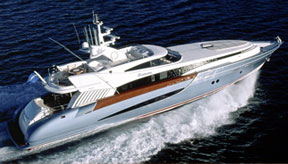 VEEM Gyro's eliminate annoying rolling motion due to waves or the wakes of passing yachts, whether you are cruising quietly up the coast, transiting an ocean, at anchor, drifting or in the pen. A superyacht is a substantial investment in high quality leisure time and entertainment. Annoying rolling motion is simply not an acceptable situation on those days of the year that an owner enjoys their superyacht. VEEM Gyro's are powerful devices that have been specifically designed and engineered for superyachts. Units are sized so that one or two VEEM Gyro's can stabilise your superyacht. Of course you also have the option of installing several units if redundancy or space considerations demand.
Offshore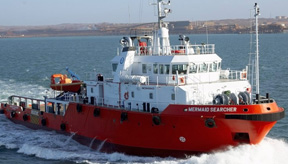 Offshore working vessels carry out critical operations at sea both underway and at zero speed. A VEEM Gyro installation can significantly increase the operational availability of these vessels by significantly reducing rolling motion when the vessel is working at zero speed performing low speed manoeuvres or in transit. The result is increased productivity, less waiting on weather (wow), less scheduling uncertainty, maximised vessel utilisation at working rates, and more productive and comfortable crew and client teams. To maximise working revenue, improve scheduling certainty, and increase crew endurance, performance and comfort, consider a gyrostabiliser as a retro-fit or in your new-building program.

Defence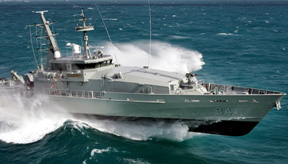 Patrol boats and mine hunters spend a large proportion of their operational time at low speeds where traditional fin stabilisers do not work effectively. A VEEM Gyro can significantly improve a vessel's operability and the crews endurance, performance and comfort. Vessel types that may benefit from a gyrostabiliser installation include: Naval and Paramilitary Patrol Boats, Minehunters, Fisheries Patrol Vessels, Police Launches, and Coast Guard Vessels.
read more
VEEM Gyro's are actively controlled vertical axis gyro stabilisers delivering excellent rolling motion attenuation while the vessel is at anchor, drifting, alongside, loitering or at transit speed. They reduce rolling motions by up to an amazing 95%+ depending on the wave environment and vessel characteristics.
A VEEM Gyro installation can provide an exceptional complete roll stabilisation solution, both at rest and at speed. VEEM Gyro's can also work seamlessly with other motion stabilisation systems, autopilot, dynamic positioning or heave compensation systems without any software interfacing.
The size and performance of the system depends upon the level of stabilisation desired, the wave environment and the vessel characteristics..
Any number of VEEM Gyro's can be fitted to a vessel. The units can be located anywhere within the vessel that has adequate structural support to transmit the high loads generated into the vessel. They do not need to be located on vessel centreline and need not be located low in the vessel. Interfacing to a VEEM Gyro is simple. It requires only electrical power and cooling seawater, in one location. This is a significant advantage either at new building or as a retro-fit as the impact on the vessel is minimal. Structural support, space, electrical power and cooling water availability will often result in a location below decks or on main deck, somewhere aft of midships, but other locations are possible.
The VEEM active control system maximises roll reduction as sea and vessel running conditions vary. With active control, a smaller unit can provide the same performance as a larger passive gyro system. The active control system also ensures that the VEEM Gyro is safe to operate in all conditions.
There are 4 VEEM Gyro models;