Max-Prop Two Blade Classic
The original Max-Prop was designed in the early 70's for the high tech race boat market. Since proving itself in the racing arena, the Classic Max-Prop has earned its way into the mainstream market as the leader in low drag propellers. Today you will find the Classic Max-Prop on a wide range of vessels from 25 foot day-sailers to 100 foot race boats. With over 30 years of proven performance and unequalled reliability the two blade Classic is a great choice for a lighter vessels.
Features: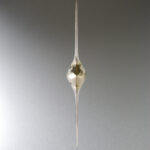 Streamlined original design
35 years of proven performance and reliability
Lowest sailing drag of any feathering propeller
Outstanding reverse power
Internally adjustable pitch
Requires haul out for installation or pitch adjustment (or a trained diver)
Ideal for racing boats and smaller cruising boats
Available from 11″ to 48″ for shafts 3/4″ to 3-1/2″ or metric equivalent also available for Saildrives
Efficient Power
In forward the Max-Prop will offer 96% of the efficiency of a fixed blade propeller of the same diameter and pitch. The 4% loss in power can usually be eliminated by precisely matching the pitch of the Max-Prop to fit the boat engine combination. With the large blade area of a 2 blade it will power as well or better than any low drag propeller on the market.
Outstanding Reverse
The Max-Prop provides 80% more power than a comparable fixed blade propeller. The Max-Prop utilizes the same leading edge in forward as it does in reverse giving the propeller the same thrust in both directions dramatically improving control and power in reverse.
Unequalled Reliability
With over 35,000 Classic Max-Props in the water, the Classic Max-Prop has become a legend in the sailing community for its durability
Very Low Drag
Under sail the Max-Prop will increase sailing speed by about 15%, the largest difference being noticed when sailing in light air. When sailing with a fixed propeller the vessel has to overcome the fixed blade drag, installing a Max-Prop maximizes sailing performance.
Internal Adjustable Pitch
All Max-Props have adjustable pitch settings. The Classic is adjustable in 2 degree increments. This can be done in minutes by disassembling it and reassembling it to the new configuration.
Max-Prop 2 Blade Classic exploded view